Atlas Copco ST 3.5 tunnel loader used to sell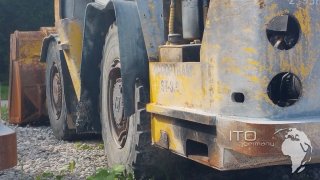 Specifications
Make

Atlas Copco

Model

ST-3.5
Artikel-Nr.: 16194
for sale
Tunnellader Atlas Copco ST-3.5 used to verkaufen
Bj. 2007
Technische data Fahrlader Atlas Copco ST 3.5 :
pay load 6000 kg/ 6 to brakeout force 9300 Kg machine weight appr. 17000 Kg
Motor:
Deutz diesel cylinder V8 Leiszung 136KW piston displacement: 12,8L torque 617 Nm
Getriebe :
Manufacture Dana Spicer type: Dana Spicer 32000 Serie
Tankvolumen:
hydraulic oil 170 Liter diesel tank: 216 Liter
Drehmomentwandeler:
Manufacture Dana Spicer type: Dama c270
Achsen:
Manufacture Wagner tyres Wagner ST-3.5 LHD: tire size 17.5 x25
Transport Dimensions:
height: 2250 mm width: 2120 mm ( each by Ausführung) long: 8460 mm
Der Atlas Copco Scooptram ST 3.5 hat a pay load of appr 6to was ihn auch Untertage to one richtigen Kämpfer macht. the eight ( 8 ) cylinder Deutz diesel engine mit appr. 136 KW performance mach the Rest. in harten use in vielen construction to sehen Scooptram 3.5 of Wagner. Ob Sie one new tunnel bauen möchten or a machines for ihr nächstes Wasserkraftwerk brauchen ? we bid a size Auswahl an Spezial machines for the tunneling construction ( project ). ( Hydropower Projekt) in offer sind auch Low Profile Boomer of Atlas Copco used machinery. find Sie PDF data up in advertisement.