advertisement mit pictures Rammax Trench Compactor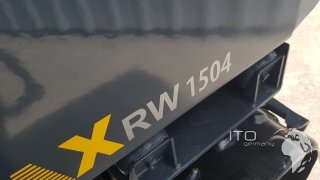 Specifications
Make

Rammax

Model

RW1504
Artikel-Nr.: 16476
8.400,00 EUR (+USt)
for sale
Rammax RW 1504 used to verkaufen Rammax mit 850 mm drums to sell colour Grau Gelb
Ez 2008 data Trench Compactor Rammax RW 1504 :
Gewicht: operating weight appr. 1440kg /1480kg
Maße: long 1775 mm roller drum width 850 mm height appr. 1220 mm
Motor: engine Hatz type 2g40 2 cylinder - Hatz-diesel performance 13,4 kW (18,5PS) tank capacity fuel 22 Liter
Allgemeine data: Statische load per unit length 11,4 Kg/cm² or 8,7 kg/cm² each by roller drum dynamic load per unit length 65 or 48 kg/cm² type of drive hydrostatic centrifugal force 82kN amplitude 2,2 mm frequency 50 Hz hydraulic oil 60 Liter working speed 0-16 m/min Eilgang 0-35 m/min Steigfähigkeit mit vibration 45% without 55%
manual instruction in Deutsch spare parts book CE Kennzeichnung
Gebrauchte Trench Compactor kaufen
Schöne Trench Compactor of Rammax Maschinebau in the colour Grau Trenchcompactor mit 850mm drums jetz in offer at ITO Germany engine Hatz diesel 2g40
Sorry, problems occured while rendering spare-parts for this item.