Schienenbohrwagen BTS1 tunnel Bohrwagen-used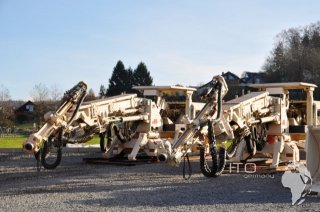 Specifications
Make

Deilmann-Haniel

Model

BTS 1
Artikel-Nr.: 16208
for sale
Schienenbohrwagen BTS 1 - Deilmann-Haniel Bohrwagen to sell NEW unused
Bohrwagen for the Schrägschacht geignet !
hammer drill Atlas Copco COP 1238 ME
technical data Deilmann-Haniel BTS1 Schienenbohrwagen:
- CE marking - manual instruction in Deutsch / Englisch - Ersatzteilliste
Gewicht: 17.000 kg
Motor: performance: 55/ 63/ 75 kW Pumpenleistung 2x 110 l/min
Abmessungen: machines long 12,40 m machines width abhängig front Spurmass machines height variabel
Hauptkomponenten dh BTS1 Bohrwagen
- Bohrlafette mit COP hammer drill - Lafettenträger - drilling boom - support - Bohtsteuerstand FOPS - Fahrerschutzdach - Windensteuerstand - Schienenunterwagen - electrical Antriebsstaion - Seilwinde
Abmessungen: transport in 40" Container or Truck Plane möglich total length in use 12400 mm working width 1700 mm height machine in use 2550 mm up to 3200 mm wheelbase 3000 mm
Spurmaß variabel Steigfähigkeit variabel
Bohrsteuerung - Anbohrstufe - Automatische Schlagwerkszu- and Abschaltung - Antifestbohrautomatik
Zusatzausstattungen: - Funkfersteuerung - Druckluftkompressor - Wasserdruckerhöhungspumpe - hydraulic verfahrbares Fahrerschutzdach - Hilfswinde - Bohrarmbegehung
to buy Sie low-priced Bergbaumaschinen front Bergbau Profi. Bohrwagen NEW unused Deilmann Haniel Mining Systems siehe pictures new Bergbaumaschinen. Ob Sie one Seitenkipplader to buy möchten or one new Deilmann Bohrwagen we bid ihnen alles to günstigen Conditionen an dh Mining Systems sell Tunnelbaumaschinen NEW and used low-priced at ITO Mining.