Tunneling Construction Equipment tunnel loader SFL 65 of Schopf Fahrlader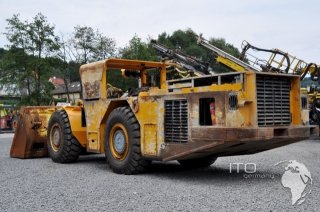 Specifications
Make

Schopf

Model

SFL-65
Artikel-Nr.: 16196
for sale
Gebrauchter Untertagelader Schopf SFL65 to verkaufen
the Tunneling Construction Equipment is from Bj 2009
Daten Untertagelader Schopf SFL:
- Modell Schopf SFL65 - weight 20100 Kg - total weight 26600 kg - speed 20 km/h - performance 160 KW - Deutz turbo diesel - Schaufelgröße 3,5 m³ - axles Kessler d91 - engine Deutz diesel 6 cylinder turbo - gearing Clark
Schopf Maschinenbau hat seit vielen Jahren sehr gute Erfahrung mit dem Construction of Spezialmaschinen for the Mining so how for the tunneling construction ( project ). the wheel loader SFL 65 hat a pay load of appr. 6,5to and is going to be of one Deutz diesel voran gebracht. the centrifugal force is going to be mit Kessler axles d91 so how mit one Clark gearing übertragen. at ITO Mining find Sie a size Auswahl an Mining Equipment so how viele tunnel loader the Marken Schopf, Atlas Copco, GHH, Sandvik, Tamrock tunnel loader.