Untertagelader GHH LF4-1 used to sell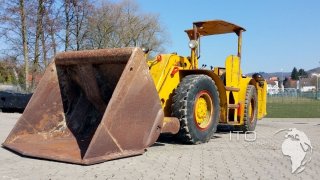 Specifications
Make

GHH

Model

LF4
Artikel-Nr.: 16084
for sale
Untertagelader GHH Modell: GHH LF-4.1 gebraucht
sell used Fahrlader
Technische data Tunnelbaumaschinen GHH Lader
Gewicht: Leergewicht, trocken: 11.000 kg Leergewicht, fahrfertig 11.740 kg Max. pay load 3.800 kg dumping load 9.700 kg
Abmessungen: long x width x height: appr. 6872mm x 1684mm x 1659mm
Motor: DEUTZ-diesel engine f6L 912W, mit Zweistufenverbrennung, air-cooled, 6 cylinder-Reihenmotor mit Wandlerölkühler performance (by DIN 6270) 63 kW / 86 PS at 2300 U/min torque 300 Nm at 1400 U/min drilling/stroke 100/120mm Hubvolumen 4,71 Liter Elektrostarter 24 V 24 volt Elektroanlage: 2 x 120 Ah
Lenkung: hydraulische power steering mittels doppelwirkendem Lenkzylinder Lenkwinkel 2 x 40° steering pump Vickers, performance 55 l/min ab 1510 U/min Betriebsdruck 105 bar
Allgemeine data: tyres Standardgröße in front/in the back 12.00x24 capacity the Standardschaufel (SAE, heaped) 2,0m³ tearout force an the Schaufelschneide 112 kN Hubzeit 5,0s Absenkzeit 3,8s Auskippzeit 4,0s
Steigfähigkeit (Werte gelten for one beladenen Fahrlader in trockener Fahrbahn): 40% (22°) at any speed of 2,0 km/h 25% (14°) at any speed of 3,0 km/h 13% (7,5°) at any speed of 5,0 km/h 7% ( 4°) at any speed of 8,0 km/h
Fahrgeschwindigkeiten: 1 gear - 3,4 km/h 2 gear - 6,9 km/h 3 gear - 11,5 km/h 4 gear - 19,3 km/h the Fahrgeschwindigkeiten gelten empty and loaded for Vor- and Rückwärtsfahrt.
Wenderadius: insite 2650mm external 4880mm
fuel 150 l hydraulic oil 115 l
Tunnelbaumaschinen to buy sell Untertagelader LHD the size Auswahl an used Tunnelbaumaschinen hilft Ihnen the correct machine for Ihr Tunnelbauprojekt from any Hand to find. to buy Sie noch heute your used Untertagelader beim Profi for Tunnelbaumaschinen. all advertisements mit original Bildergalerien to the offered Used machines. our Fahrlader können Sie mit Vollgummireifen or mit EM tread erwerben. Untertagelader to buy sell we helfen Ihnen.