Manitou MT1233 Telehandler mit CE sales Miete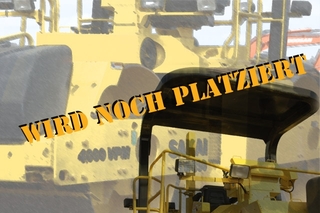 Specifications
Make

Manitou

Model

MT1233
Artikel-Nr.: 26460
This machine has a new owner.
But no problem: Below you can find similar machines we have in stock.
These might fit your need

10.500,00 EUR (+USt)

9.200,00 EUR (+USt)
rough terrain forklift mit all wheel drive 4x4x4 of manitou to sell or hire Modell MT1233 mit accessories Gabeln Schaufeln. Herteller : Manitou type : MT 1233 engine PERKINS type 1004.42/1004.4 turbo performance (by ISO/TR 14396) Atmo: 81.5 PS / 60 kW turbo: 104 PS / 67.5 kW Max. torque Atmo: 290 Nm at 1400 rpm turbo: 394 Nm at 1400 rpm Direkte Einspritzung water-cooled vertical lift : 12m Nenntragkraft : 3300 kg Max. range : 8.32 m Wandlergetriebe Hydraulische Stabilisatoren curb weight (mit fork) 9270 kg width 2.36 m height of unit 2.55 m turning radius (Aussenkante tyres) 4.00 m Länge 5.60 m ground clearance 0.45 m tractive force Atmo: 7400 daN - turbo: 9200 daN manual instruction in Deutsch spare parts book UVV NEW in commission This Manitou video is of one used rough terrain forklift type Manitou MT1233 vergleichbar in the functions mit dem of us angebotenem Telehandler.in dem forklifts video sehen Sie a different machine it is not the angebotene used Telehandler MT 1233.