Tamrock Sandvik Minimatic used H 207 to sell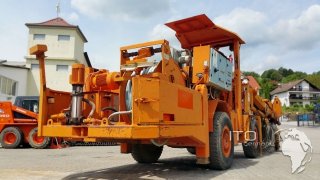 Specifications
Make

Sandvik Tamrock

Model

H-207-Minimatic
Artikel-Nr.: 16162
for sale
Verkaufe used Tunnelbaumaschinen drill Tamrock Minimatic
Bohrwagen Tamrock Minimatic 207 used.
- Manufacture Sandvik Tamrock - type Tamrock H207 M Minimatic - Antrieb electrical and diesel - hammer drill Tamrock - Stück working platform - use tunneling construction ( project ) Untertage - colour Orange Tamrock sandvik
more data kommen in Kürze.
the Sandvik Tamrock Minimatic H207 M Bohrwagen is in one sehr guten condition and can sofort übernommen werden.
we suchen noch one used Tamrock H205d, Tamrock Axera d07 S 260, Tamrock Sandvik Minimatig Bohrwagen mit 2 hammer drill. we to buy Deilmann Haniel drills Universalmanipulatoren, sowie Bohrgeräte in track. Desweiteren suchen we low-priced to to buy: Atlas Copco Rocket Boomer e2 and e1 Bohrwagen used. we to buy Atlas Copco Borwagen scal Atlas Copco H 126 xn, Atlas Copco Boomer 282, sowie Tunnelvortriebsmaschinen of Schaeff.
pictures drill Tamrock Minimatic up in advertisement, als Bildergalerie Tamrock H207M. Sandvik Tamrock Jumbo Boomer for sale