sell tunnel excavator Terex TE 210 used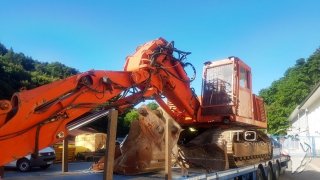 Specifications
Make

Terex

Model

TE 210
Artikel-Nr.: 16422
for sale
Wir sell low-priced one tunnel excavator Terex TE 210
Technische data: Tunnelbagger Schaeff Terex TE210 in orange
working weight each by equipment 28t and 32t
Optimaler Einsatzquerschnitt appr. 25-60 m²
Technische Hauptdaten:
machine length 9550 mm machine width 2700 mm Maschinenhöhe (Arbeitsposition) 4400 mm Maschinenhöhe (Transportposition) 3300 mm max. praktische Reichhöhe 8500 mm max. digging deep 3900 mm min. working height 4700 mm
Motor: DEUTZ TCD 2013 L06 2V performance of the Dieselmotors 165 kW at 2200 U/min fuel-capacity 410 l
Raupenfahrwerk: Fahrwerkslänge (Laufräder) 3450 mm Fahrwerksbreite 2710 mm Fahrwerksbreite (Schild) 2700 mm chain length 4300 mm track width 500 mm
we bid used Tunnelbaumaschinen low-priced to kauf an ob Sie one Schaeff ITC 112 / ITC 312 or a Terex TE 210 used suchen we find the correct Bergbaumaschine NEW and used for ihre use. to buy sell tunnel excavator of 12 up to 35 to. we suchen Aktuell one used ITC 120 ab Bj 2012 for the use in one Hydropower Projekt please alles anbieten. we sell auch used tunneling dumper Paus ITC 8000 / Paus ITC 10000. find Sie more used used machinery in ITO Germany. This video zeigt not the Angebotene machine.