used tunneling dumper DUMEC DP5000 Tunnelbaumaschine articulated dump truck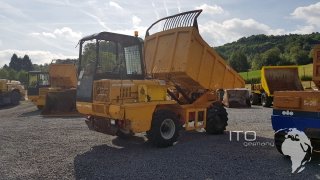 Specifications
Make

Dumec

Model

DP 5000
Artikel-Nr.: 16407
for sale
Tunneldumper Dumec articulated dump truck type DP5000 Hydrostatic mit 4x4x4 all wheel steering to sell.
Dumec dump body mit any pay load of 10000 kg.
Technische data tunneling dumper Dumec DP5000 Tunnelbaumaschine:
Gewichte: Leergewicht 5590 kg max.pay load 10000 kg
Abmessungen: total length 4960 mm total height 2830 mm total width 2130 mm max height ausgekippt 3760 mmm ground clearance: 330 mm
Motor: IVECO FPT turbo diesel 4-cylinder water-cooled performance 83 PS tank capacity appr. 15 L electric start 12 V
Allgemeine data: Kippen hydraulic 4x4x4 all wheel steering Übertragung hydrostatic - 4 speed Differential gearing steering hydraulic unterstützt Schutzkabine Operator´s seat 180° drehbar
we sell used Bergbaumaschinen and vehicles for the tunneling construction ( project ). offer Dumec DP5000 tunneling dumper all wheel drive 4x4x4 to günstigen Preisen . prices tunneling dumper. we to buy tunneling dumper Paus ITC 10000 and Paus ITC 8000. Weidere machines to use Untertage fragen Sie an.